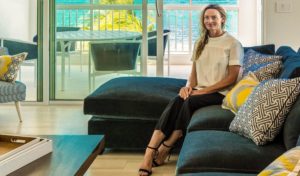 Bernadette Hunt on buying real estate in the Turks and Caicos "Beauty is in the Eye of the Beholder"
The following post is taken from a recent magazine article written by Bernadette Hunt titled "Beauty is in the Eye of the Beholder" for Discover Magazine. The piece explores Bernadette's own experience buying real estate in the Turks and Caicos. Moreover, it highlights the renovation of the property she purchased to maximize its full potential and how this opportunity enhanced Bernadette's knowledge of the remodeling process to best guide her buyers wishing to do the same.
Proverb:
Beauty cannot be judged objectively, for what one person finds beautiful or admirable may not appeal to another.
As with any career when one has dedicated enough time to it and loves what they do, there comes a feeling and a passion that can't but overflow into your own life and life experiences. Purchasing real estate especially in a foreign country doesn't come without its challenges especially real estate that is outdated and in need of a complete remodeling. Many people in the real estate world say there are 3 important aspects of purchasing a property and I believe you all know them but for me, it has to be love, location, and bones. I find myself saying all the time to people, no matter what you think about a property if you don't love it then perhaps it's not for you.
In late spring 2015, a friend had suggested that I view a penthouse that had been on the market since September 2011 which I willingly did a few days later. Upon entering the property and upon closer inspection I understood why it remained on the market so long and that this property needed more than a new paint job and changing out some furniture. While it needed to be completely renovated from floor to ceilings what was most apparent however was the fact that the panoramic views of Grace Bay Beach had never been maximized and the challenge to achieve this is what motivated me to try and purchase it.
My goal was to create a modern loft style penthouse on Grace Bay Beach
Having already fully renovated two waterfront homes on Providenciales I realized that it should be possible to do it one more time. By removing some internal walls and refinishing the vaulted ceilings I was given the opportunity to create something unique exhibiting the panoramic views I saw in my mind. The goal was to create a modern loft style penthouse. The entire condo was retiled in a 9"x 36" ETIC tile and the bathrooms were custom fitted and tiled in mosaic marble tiles and the bases of the showers in ADVANC Nero Basalto all supplied on the island by Ceramex.
All fixtures were Kohler and each shower was fitted with oversized rain showers. The main feature of the master bathroom is the 63″ x 32″ oval bathtub and Kohler standing tub filler. The vanities, kitchen and barn style doors were all custom made on the island together with the custom designed and fitted walk-in closet in the master bedroom. The master bedroom is beachfront and has its own private balcony to compliment the contemporary look all windows and doors were replaced with custom-made hurricane impact ones negating the need for outdoors shutters and giving the property a cleaner look. The kitchen, living room and dining area are all drenched with views of Grace Bay beach.
The opportunity gave me a wealth of knowledge to help others buying real estate in the Turks and Caicos
This experience allowed me to guide first-time visitors to Providenciales Luxury Realtor Amanda Miller from Houlihan Lawrence in Greenwich CT. Amanda together with her husband and family visited the islands over Christmas 2015. Upon meeting Amanda and Seth they told me that this was the first island they had visited which made them both feel compelled to view real estate.
Included in the villas they viewed was Villa Amelkis a three bedroom beachfront home on Grace Bay that had sat on the market since November 2012. This beachfront home was built in 2002 and was designed and built not taking into account the views of Grace Bay Beach. Amanda's years of experience in real estate allowed her to easily see her way through a renovation of this villa in a way that many people who had viewed the property before her all came to the conclusion that it should be taken down.
They employed the services of Paul Horton, Horizon Construction a company with over 20 years of experience in renovations in the Caribbean. They retained the marble floors but removed the wall between the living room and the kitchen and the Moroccan design elements to the home were replaced with a more contemporary design and the home was furnished with a neutral pallet. An outdoor entertainment space including a seaside dining and living area was created.
Photos of the completed Milestone renovation: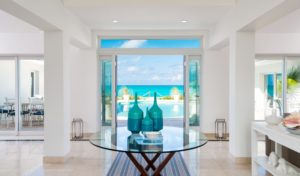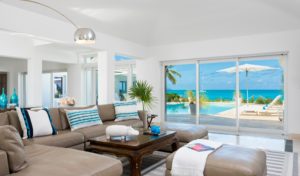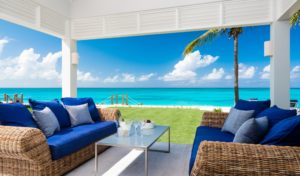 The Villa was completed and ready for occupancy in December 2016 under the new name of Milestone appropriately named for personal reasons. This contemporary beach villa is now available to rent and is a successful Turks and Caicos rental income property. Click the following link for further details on Milestone.
Whether you feel compelled to view real estate with the intention of building your dream home or taking an existing property and approaching it with fresh eyes there are suppliers, contractors, and professionals on the island of Providenciales who are waiting and willing to assist you when you are ready.
Contact Bernadette Hunt for additional information on buying real estate in the Turks and Caicos and if you would like to speak with her further on building or remodeling.
Request Additional Information