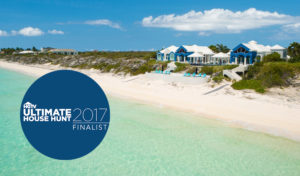 Mandalay HGTV's Ultimate House Hunt 2017 Finalist
Bernadette Hunt is proud to announce that Mandalay, an ultra luxury Long Bay beachfront estate in the Turks & Caicos Islands has been chosen as a finalist in HGTV's Ultimate House Hunt (Waterfront Homes) 2017.
Mandalay one of only eight finalists in the Waterfront Homes category!
The waterfront homes category includes a variety of waterfront property types. This category also highlights homes from all over the world in gorgeous waterfront settings. The captivating Mandalay on Long Bay beach, Turks & Caicos Islands is surely a top contender!
Finalists in all eight categories will be posted on HGTV's website commencing on Tuesday, June 13th, 2017 . Users are invited to vote for their top picks until Tuesday, July 18, 2017. At that time winners will be announced in each category. In addition, an overall fan favorite award will also be announced. Winners are based on the total number of votes received during the contest period.
Cast your votes and get ready for the announcement on HGTV's Ultimate House Hunt 2017!
If you would like further details on Mandalay, please contact Bernadette Hunt for more information and to arrange a showing at this exclusive property.