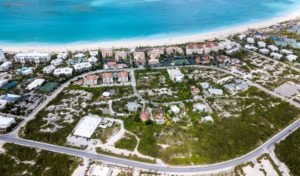 Grace Bay, Turks and Caicos a beautiful place to live with abundant amenities
The Grace Bay, Turks and Caicos community is made up of primarily beachfront condo developments, townhomes, and some homes. Many of these properties are operated as short-term rentals. The majority of Grace Bay property owners are investors and seasonal part-time residents.
In addition, Grace Bay, Turks and Caicos is the heart of activity on the island of Providenciales. If you want it, you can find it on Grace Bay Road or the "Grace Bay strip" as it's affectionately called. World class resorts, restaurants, bars, spas, yoga and fitness studios, dive shops, banks and offices line the street. The Ports of Call Shopping Plaza, La Petit Plaza, Grace Bay Court Plaza, Ocean Club West Plaza, Salt Mills Plaza, Le Vele Plaza as well as the Regent Village are all filled with shops along the way for added convenience. An added bonus, the IGA Gourmet grocery store, and the renowned Provo Golf Club are both within walking distance of many of the Grace Bay, Turks and Caicos developments.
No need for a car as you have an array of comforts and services at your doorstep. Most importantly, you are in very close proximity to the famous Grace Bay Beach. Which makes living in Grace Bay, Turks and Caicos one of the most sought-after places to visit and own property in the Caribbean.
Grace Bay Beach is better than ever and ready for you!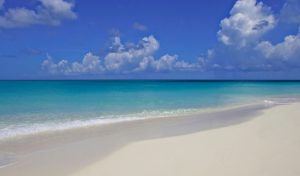 Located on the northeast side of Providenciales with miles of pristine white sand and clear turquoise waters is the award-winning Grace Bay Beach. The Grace Bay Beach area is situated to the east of Leeward beach and to the west end of the Bight beach (often referred to as Grace Bay West).
Additional details and an overview of the beachfront developments on Grace Bay Beach are covered in an earlier blog post titled Grace Bay Beach Condos. Living in Grace Bay means "beach life" is part of your everyday routine. Taking early morning walks along the powdery white sand, partaking in a wide variety of water sports during the day and finally enjoying a sunset cocktail on your beach chair can be your lifestyle while living in Grace Bay, Turks and Caicos Islands.
For further information on living in Grace Bay, Turks and Caicos Islands and properties listed for sale in Grace Bay please contact Bernadette Hunt.
Request Additional Information