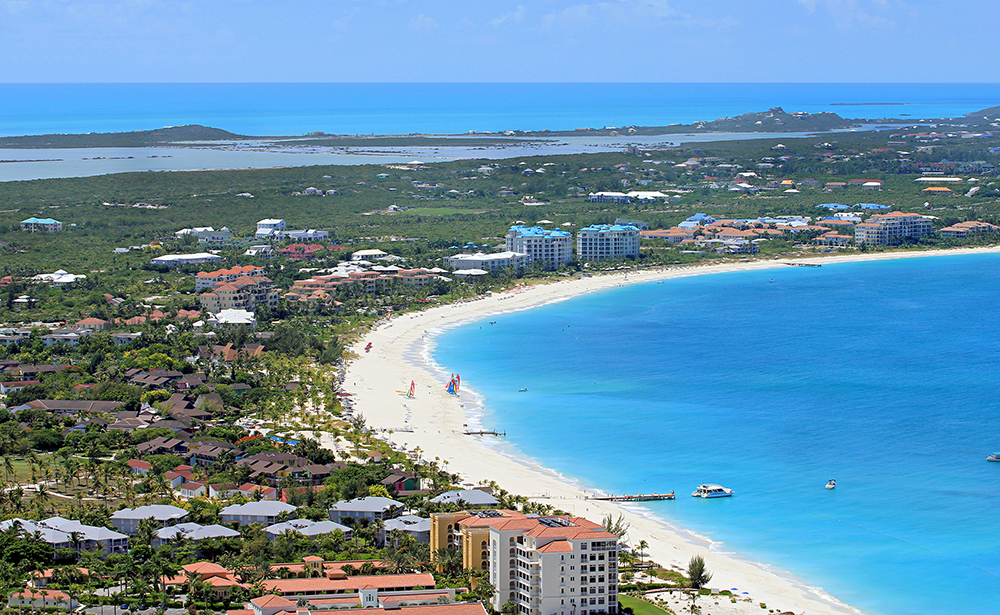 Thoughts on currency and Turks and Caicos Real Estate
********* Note: This editorial was written in 2005 or 2006 and has been reposted for entertainment with some minor changes. At the time real estate prices had risen steadily and indeed they continued to rise through to 2008 before falling substantially in the 2009-2011 period. The EUR also fluctuated wildly against the US$ in the meantime but it has not dropped back down to the 2002 range despite what appears to be an increasingly fragile single currency*********
I'm Irish by birth, living and working in the Turks & Caicos which has the US Dollar as its currency. As a result I have a tendency to watch the currency exchange US Dollar / Euro rates on Bloomberg while I sip my first cup of tea in the morning and lament the US dollar's extended decline – which doesn't seem likely to change in the short-term. I have to return to the "auld sod" at some point this year to touch base with kith and kin and looking at the exchange rate I'm dreading it. Do you remember early in 2002 when the exchange rate was €1.165 or £0.70 to US$1.00? Its now €0.78 / £0.53 to US$1.00. Other currencies from the Bermudian Dollar to the Nicaraguan Cordoba have seen declines similar to the US Dollar against the Euro and Pound. While this will put a damper on my shopping when I am back in Eire, it does create interesting possibilities for European investors looking to snap up a place in the sun as an investment, a second home or retirement pad, so I thought I would put quill to parchment, so to speak, and record my thoughts on the matter.
Which country?
The $64,000 question is where should you invest your Euros and Pounds if you want to get a place on this side of the Atlantic?
About 2 years ago a nice young American fellow I knew decided that starting a business in the Turks & Caicos would be too much of a hard slog. He sold his truck, packed up his belongings and fiancé and moved to a family investment property in the jungles of Belize. It turns out that the property was a hut without indoor plumbing on an impressive stretch of land. He affectionately called it the "Love Cabana". He and his prospective better half stuck it out bravely for about 6 months. But it was hard to keep the fires of love burning with monkeys jumping up and down on the roof all night long. Some sort of territorial instinct apparently drove the monkeys to pelt them with whatever came to hand whenever they ventured outside to bathe. To cut a long and somewhat earthy story short Cupid's arrow was ultimately irretrievably lost in the back woods of Belize. If there's a point to this it's that you're often better off buying the best quality real estate product that you can afford rather than going the other route. You only live once as they say, so you might as well live as well as you can.
I have visited the Dominican Republic on various occasions – its just a short hop on a small plane. Construction costs are comparatively cheap and the craftsmanship and quality of materials are good so I have always kept an eye out for "the deal", but I was never moved to buy property there. When I wasn't dodging mopeds I found myself trying, unsuccessfully, to evade street-hawkers who I have learned can spot an Irish person at 600 yards and efficiently cut off all escape routes – "No, no hablo Espanol… no I don't want to buy flip flops … here, have a few pesos and leave me alone" (for the record the last bit is a bad move). I personally have misgivings about buying real estate where I can't read and understand the terms of the contract for myself, which rules the Gulf Coast of Central America in one fell swoop. I know I would fair better if I learned the language.
Bermuda has always appealed to me, at least its English speaking. Perhaps it's the fact that they get enough rainfall to make me feel homesick – though no self-respecting Irishman would be caught dead in shorts and knee socks. In any event, I can't afford the price of a small damp cottage outside Hamilton or anything else that I would regard as possibly habitable.
Cayman is similar in many respects to the Turks & Caicos but it has a tendency to be walloped unmercifully by passing hurricanes. I am told that when foreign developers first started buying up beachfront on Seven Mile beach it was something of a joke among local vendors who happily retreated, cash-in-hand, to higher, dryer ground. For whatever reason (and many have been cited) the Turks & Caicos seems to be spared the worst of the hurricanes that pass through the region. Long may that last. A friend of ours who moved from Grand Turk to Grand Cayman in 2000 to work with a company incorporation outfit managed to get a last minute flight out before Ivan hit and has not yet seen a reason to return. Another feature of Grand Cayman which I would have difficulties with is the bumper-to-bumper traffic which has to pass right through the downtown tourist area of Seven Mile Beach. I wish Cayman all the best and have no doubt that it will come back bigger and better than ever.
Dominica has (large) snakes which I can do without. I always admired St. Paddy for taking it upon himself to drive them out of Ireland. I often wonder whether he was asked to do it by someone like me, or if he just saw the need to do the right thing and took the initiative. In any event, neither Dominica nor Puerto Rico have what I would regard as white sandy beaches, which is central to my concept of a Caribbean lifestyle, although I must confess that I'm more inclined to admire a nice beach from a safe and respectable distance than actually to walk it or lie on it.
Jamaica and the Bahamas have a bad rep for crime (but I gather from Jamaicans working here that its not as bad in Jamaica as it is made out to be – particularly for tourists who tend to be left out of the squabbles).
Leaving aside my obvious personal bias and my inclination to distance myself from serpents and gun-fire I firmly believe that from an investment perspective, real estate in the Turks & Caicos is a solid choice. It's cheaper than Bermuda, and similar to Cayman in some respects. There's an shared view among many with broader investment experience than me, that because the Turks & Caicos has a fresher product and better beaches than Cayman the "real estate" tables will likely turn in 5 to 10 years with the Turks & Caicos leading the island nations of the Caribbean Basin (and the North Atlantic) in terms of pricing.
What type of investment should you consider in the Turks & Caicos?
From an investor's perspective the first point worth noting is that undeveloped land prices here have been on an unmitigated tear for the past 5 years – so much so that investors have increasingly (and quite rightly) been looking at other areas of the local real estate market for the next investment opportunities. First it was beachfront on North Caicos, which is getting its own port and has a number of developments on stream. More recently interest has extended to Middle Caicos with the possibility of a causeway linking it to North. Commercial land on Providenciales has also had a good run with second tier undeveloped properties in the Grace Bay area now fetching prices equivalent to beachfront prices 5 years ago. After 10 years in the doldrums Grand Turk real estate began an impressive gallop of its own as a result of the new Carnival Cruise Port development.
So the second question – the Sixty Four Thousand and One Dollar question – is what makes the most sense for a prospective European real estate investor looking at the Turks & Caicos in 2006? There's no sure-fire answer but one possibility which is right under everyone's nose and which I find increasingly interesting is the condo market right in the center of Grace Bay beach, where it all began. After all, while condos have proven to be solid investments over the past five years they haven't doubled or tripled in price (yet) unlike undeveloped oceanfront land in certain areas, so the best investment returns may be yet to come.
Condos are also a comparatively hassle-free way for non-resident investors to own developed real estate in the islands. You don't have to line up tradesmen to help you with plumbing, electrical and other routine emergencies that crop up in any privately owned building and unlike a hut in the jungles of Belize you can invite family and friends to visit your condo on the beach and be assured that they will enjoy a fair degree of pampering, and no monkeys.
You may ask why I single out Grace Bay when it's already the heart of the tourism industry here with prices comparably higher than elsewhere in the islands. My answer to that is that Grace Bay beach will logically continue to be the prime location in the Turks & Caicos and should therefore continue to command a price premium going forward. And right now, it's the place to be. In Cayman, which is 10 years ahead of us in development terms, Seven Mile beach real estate continues to be a leader in price appreciation. I am confident (if not certain) that condos on Grace Bay will continue to outperform the rest of the condo market here. You can buy a beachfront condo elsewhere for a little bit less but it is not the same thing.
The reasons why I believe Grace Bay resort/condo real estate will continue lead the condo market in price appreciation are too many to list in this article but include the following:-
Grace Bay beach is consistently rated in the world's top-10 by Condé Nast) – there is no other comparable stretch of beach in the islands suitable for condo development;
All of the prime undeveloped sites along Grace Bay have been purchased by developers at this point and at increasingly higher prices, meaning that newer developments will be priced higher creating a floor price for condos in existing developments;
The Grace Bay area has the best known high quality developments (The Palms, The Sands, the Somerset, Grace Bay Club, The Renaissance, etc.); the benefit of 10 years of attendant marketing and promotion; and is convenient to Providenciales' international airport – which is the main port of entry into the islands with direct flights from various cities in the US, Canada (and now London Heathrow);
Proximity to and availability of private medical practitioner services and facilities, banking / financial services and other basic services that you take for granted back home;
Proximity to general amenities – a choice of several supermarkets, brand name boutiques, shops, restaurants, cafes and bars.
The majority of tourists (who are the principal buyers of condominiums) visiting the Turks & Caicos Islands still stay in the condo resorts and hotels along Grace Bay. Most of those don't venture out of the area except possibly to hop on the Gecko buses for outings to specific locations marked on the tourist map around the island. Grace Bay is where the buyers are and it is what the buyers see.
These factors coupled with steadily increasing demand indicate that current condo pricing on Grace Bay beach is built on a solid foundation and is a relatively safe bet for price appreciation going forward.
There are now preconstruction condominiums offerings on outer islands that have pricing comparable to what is offered on Grace Bay. Leaving aside the absolutely valid consideration of personal preference and the desire to forge a new path, Grace Bay is likely to be the better investment.
As a real estate agent/broker it's my job to identify investments that make "good horse-sense" where buyers can feel confident they have made a sound decision on various levels. I have a number of ideas at any given time – but none at this particular moment which are quite as straightforward and delightfully up-market as an investor simply finding a comparative deal on a luxury condo right in the heart of Grace Bay beach and paying for it with Euros or British Pounds.